About our NFT Dog Tags
NFT Keychains
&

NFT Earrings
Brilliant Color NFT Dog Tags
Flex your favorite NFT on this stylish swag, while keeping it close to your heart.
Printed onto a durable aluminum sheet, our metal NFT dog tags will have HODLers showing off their NFTs IRL.

---
TURNAROUND Time
Orders generally ship in 2-4 days from our East Coast Facility
---
Unmatched Quality & Craftsmanship
Every order is created & carefully inspected in our USA production facility.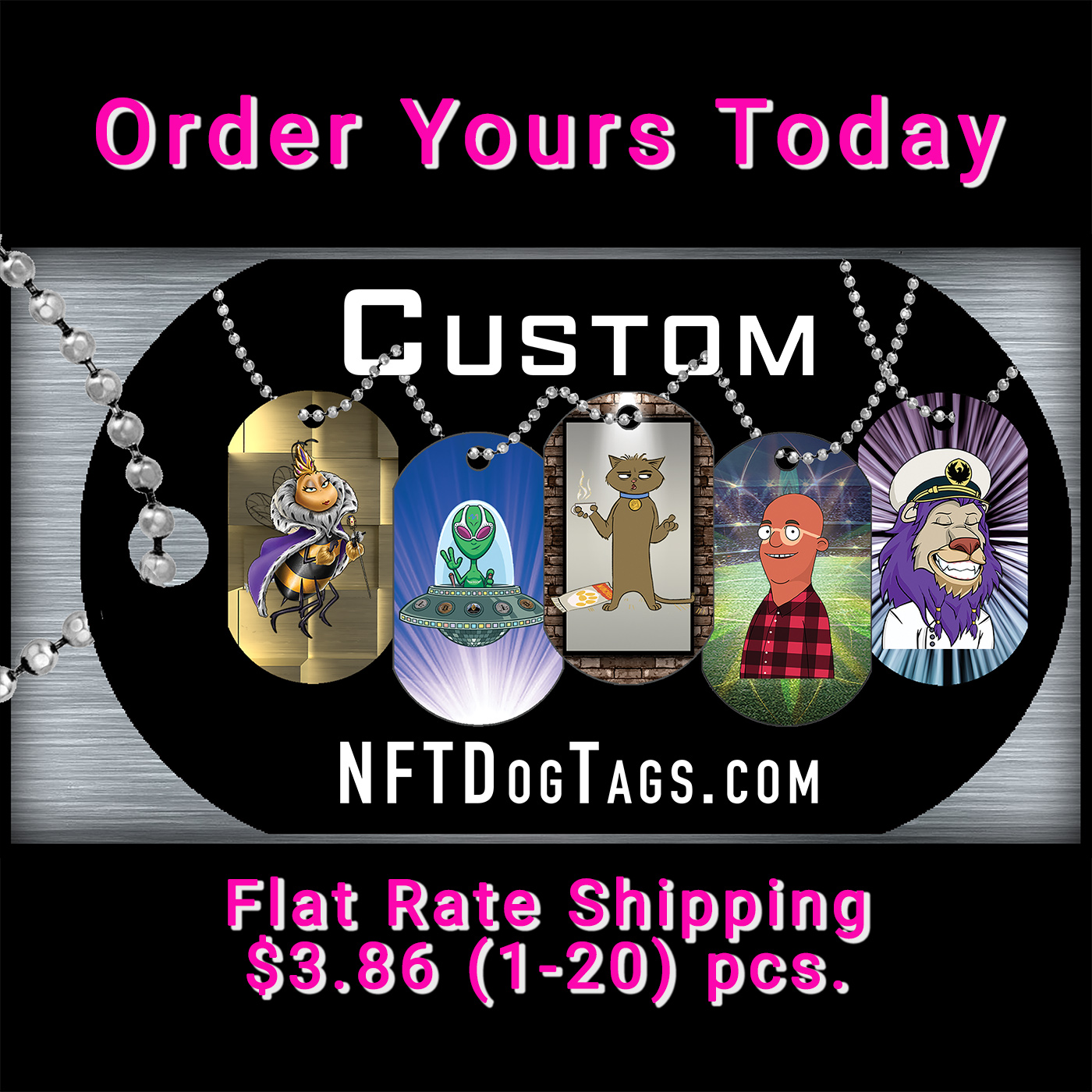 ---
NFT Dog Tags
Any NFT Project | Any NFT Collection
NFT Dog Tags Ordering Details
How To Order Your Custom NFT Dog Tags
Choose the NFT you want from your collection .
2. Grab your NFT Number, & Collection Name from Opensea.io, lastly…
3. Submit your customized optional text
Front – Your NFT image on original background
Back – Same NFT image as front with optional customized text*
*Note: Text Placement, Font Style & Color, will be decided by our design team
---
Size:
1.125″ x 2″ (Identical Size as US Army Dog Tags)
Included:
30-inch chain
Printing Process:
High quality, thermal image transfer printing.
Material:
Light Weight / Sturdy 1/16″ Aluminum
---
NFT Dog Tags

Custom NFT Image Dog Tags

NFT Dog Tag Earrings

Custom Art Dog Tags


NFT Dog Tag Keyrings

Personalized Dog Tags

Medical Alert Dog Tags
Hello and welcome to NFT Dog Tags! We're so glad you stopped and you'll be glad you did too. We invite you to browse our site and afterwards if you don't find what you're looking for, just let us know. Because in fact, we value you as our customer we will do our very best to provide custom dog tags personalized especially for you!
Our main goal overall, is to provide you with a piece of memorabilia you'll fall in love with. Memorabilia customized especial for you, to have, to hold and to flex IRL.
We Bring Smiles when you receive your Dog Tag.
Bring Love when you gift a Dog Tag
And, Bring Memories, when you look at your Dog Tag as it brings you back in time.
We specialize in transferring high resolution images on to official size aluminum Dog Tags.
This transfer results in beautiful high gloss, colorful Dog Tags can be hung in your office as well as worn as a necklace, bracelet, earrings or key chain.
Keep in mind, your NFT JPEGs are great – but we can create and customize your Dog Tag with any image you own. For example, family photos, your fur babies, pieces of art, pet memorials, special events, party favors and the list goes on but we think you get the idea. To keep it simple, our objective is to customized dog tags especially for YOU.
As a result of falling in love with my JPG and wanting to flex it IRL, we brainstormed and finally came up with this idea to transfer the images onto Dog Tags. Now ideally I can display my collection on a wall without taking up too much room and if I want I can also flex my favorites by wearing them IRL when I attend conference events, social occasions or just hanging out with my friends.
These Dog Tags are not only a lot of fun, but more importantly, they are a great way to flex any image you own IRL. And additionally, the memories they will carry will last forever.
And it's as easy as 1,2,3 so start your collection today.
Below is a summary of the order form:
First- let us know which NFT you would like on the Dog Tag
Second- provide us with the project name & NFT in number
Third- optional, you only need to complete this if you want custom texton the back.
And of course, the Kids & Grandkids will Love them too!!!
You Don't Want To Miss Out On This, Do You?
So Let's get started, Order yours Now.
Ready, Set Go!
Order Your NFT Dog Tags Today!